At Essem Design we believe that the best way to look after our environment is to create products that are designed and made to last. That is why we have produced accessories and spare parts to keep your Nostalgi rack going for several decades Adapt your Nostalgi rack with fittings designed for stepless raising and lowering. Set of 2 rails L=987 mm, 4 washers and 4 screws.
Measurement:
29x15x987 mm (WxDxH)
CC-Height (mm): 420
Hole diameter (mm): 7
Material:
Material: Steel
Finish:
Colour codes, powder-coating: White (n/a)
Color: White
Article number: 3001VN
Packaging:
Package volume (m3): 0
Package weight (kg): 2.1
Products related to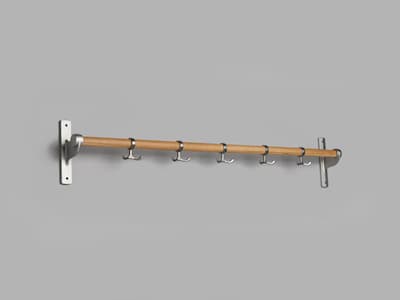 The Nostalgi hook strip originates from our classic Nostalgi hat rack designed by Gunnar Bolin. The brackets are made of recycled aluminium joined by round bars in wood, steel and aluminium.