At Essem Design we believe that the best way to look after our environment is to create products that are designed and made to last. That is why we have produced accessories and spare parts to keep your Nostalgi rack going for several decades. Here you find extension brackets to Nostalgi hat/shoe rack.
Measurement:
30x257x188 mm (WxDxH)
CC-Height (mm): 160
Hole diameter (mm): 6
Fits bars and tubes that are 25 mm +/- in diameter.
Material:
Bracket material: Aluminum
The metals that are not finished, such as aluminium, come in its raw form, which may vary from one piece to another.
Finish:
Colour codes, powder-coating: Black textured (RAL 9005), white (n/a)
Packaging:
Wall screws are included: No
Products related to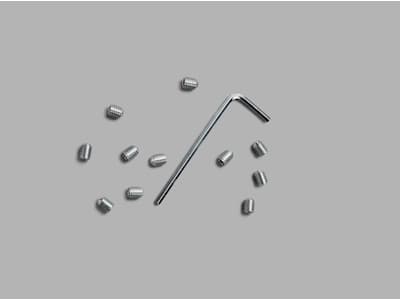 Set screws M5 for attaching staffs to the bracket and for securing the hook to a staff. Fits to brackets and anchor hooks for Nostalgi hat and shoe rack, Nostalgi 291 hat rack as Nostalgi hook strip. You can also use it to the hooks for Tamburin hat rack, Gustav hook strip and Oskar hook.