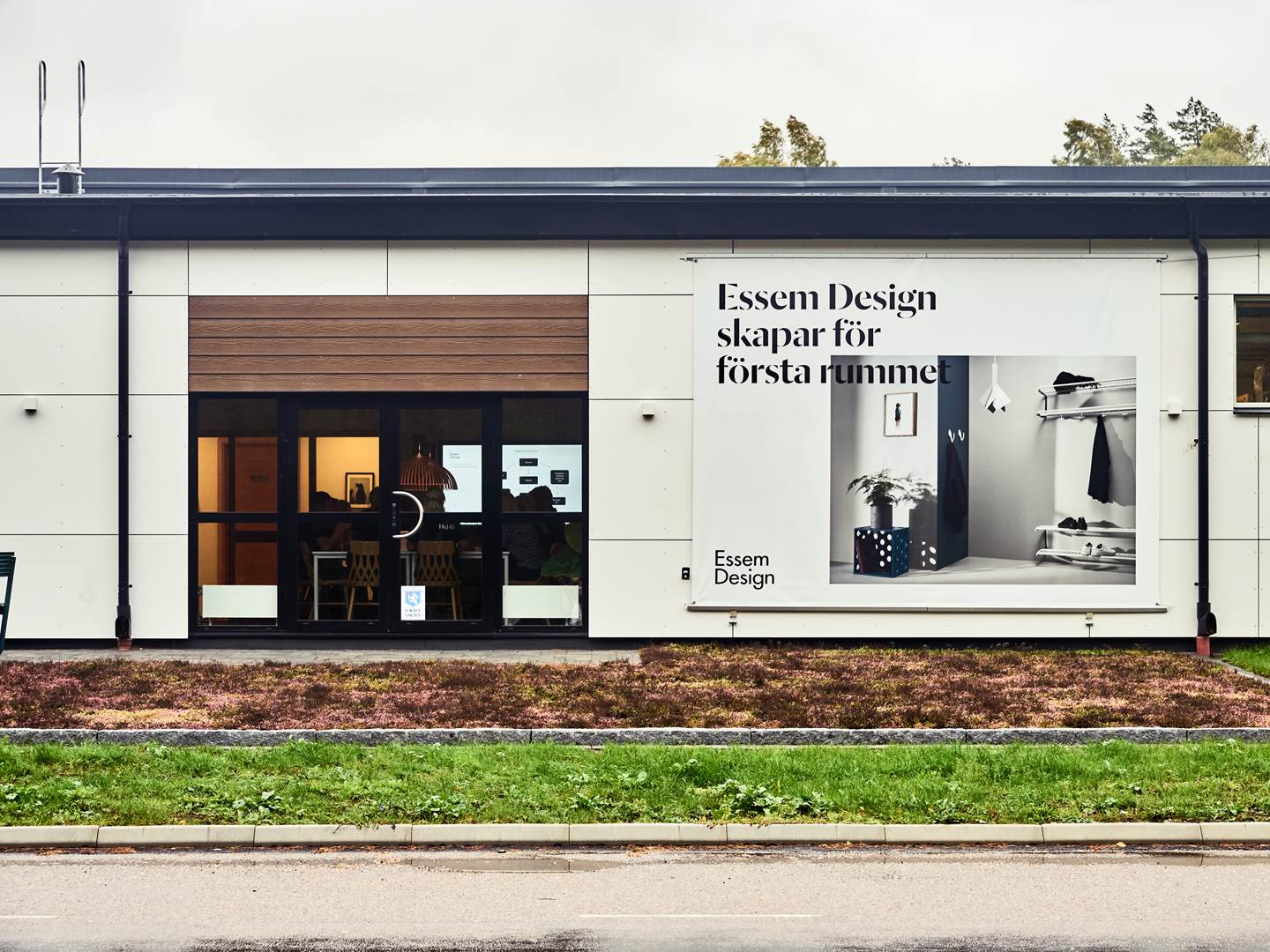 Purchasing terms
To purchase products from Essem Design's webshop (www.essem.se/en) you must be at least 18 and live in one of following Member States of the European Union; Austria, Denmark, Finland, France, Germany, Italy and Netherlands. We cannot accept liability for any errors in product information, prices or stock levels. All prices are quoted in EUR incl. 25% VAT. The prices do not include delivery costs. These will be added at the check-out when you complete your purchase.
Contact information
Head office, warehouse and return address
Essem Design AB 
Nennesmovägen 9 
33433 Anderstorp 
Sweden
Company information
Essem Design AB 
[email protected] 
+46 (0) 371-19410 
Org.no 556627-8809 
VAT.no SE556627880901 
Delivery terms
Here you will find everything to do with our delivery to you as an e-commerce customer within following countries in the European Union ("EU"): Austria, Denmark, Finland, France, Germany,  Italy and Netherlands.
Delivery costs
All orders from the webshop in excess of EUR 300 will be dispatched free of charge within the EU. For orders below this threshold, we charge EUR 19 for delivery, regardless of the number of items bought.
Delivery time
Most products displayed in our webshop are held in stock for immediate delivery. The normal delivery time for these products within the EU is 5–7 days from when we have received and recorded your order. Estimated delivery times are given for each product. Around Christmas/New Year and in the summer, delivery times may be slightly longer than stated due to our suppliers holidays. 
Covid-19
Due to the prevailing situation with Covid-19, our deliveries to you can be affected.
Forwarding company
Within the EU, we use UPS.
Collection from an agent
If you collect from an agent, you will need valid identification plus the number you were given in your e-mail or text notification. Anyone collecting on your behalf must show ID for both of you. The package will be held by the agent or in the store for 14 days before being returned to our warehouse. We reserve the right to charge for carriage and administration if the package is not collected; the charge is currently set at EUR 40.
Damage in transit
If you notice that the packaging is broken, ask the postman or forwarder to write this on your receipt. Then take photos of the damage, both to the outer packaging and to the damaged product. You can then contact us using our return and claim form and attach the signed receipt and the pictures. It is important to do this within 2 days. We will replace the damaged product and send a new one.
Payment
We offer Klarna's full Checkout where Klarna in turn offers several different options for customers to make their payment. Klarna will present you with some information as soon as you are identified. The information you need for identification may vary between different retailers and customers. No credit details are ever entered directly into Klarna but only when needed, depending on the payment option you have chosen. Credit details taken by Klarna do not affect your credit rating and cannot be viewed by anyone else requesting credit information about you, such as banks. When you have been identified, Klarna will display the specific options available to you. 'Invoice' is pre-selected as a payment option, but you are of course free to choose any of the other options, such as direct payment through your bank or payment by card.
Invoice
Through Klarna, we give you the option to pay within 14 days of your purchase. In some cases, the payment time may be even longer, for an extra charge. Your invoice will be released and sent to you via the email address you gave when you bought the product(s). The invoice will be sent out at the same time as the order is dispatched from our central warehouse. 
When you opt to pay by invoice, Klarna will run a credit check. If a credit report is obtained, you will be informed of this and sent a copy of the report by post or email. For full terms and conditions for payment by invoice, please click on 'Conditions' at the check-out after selecting Invoice as your payment method.
Part-payment
You can choose to split your payment into several instalments for a fixed monthly charge and interest costs. Please visit Klarna for detailed terms and conditions for this.
Direct payment
With Klarna's 'Betala direkt' service, you can make a payment from your bank account. Klarna will never share your bank details with anyone outside your bank. Customers may be offered payment by autogiro after an approved credit check, which may involve obtaining a credit report. The money will normally be drawn from your account two banking days after we have processed your order, usually when we dispatch the goods. You can read more about when the money will be drawn from your bank account and how your payment is handled in Klarna's terms and conditions for autogiro.
Bank card
In Klarna Checkout, you can also opt to pay directly with one of the following bank cards: VISA, Mastercard, American Express.
Warranties
Warranties for our products are valid for 10 years for manufacturing faults, subject to normal use. All warranties apply in the countries we sell to. If you wish to claim on the warranty, you must contact us. The appearance of the goods may vary according to the material and production.
We comply with the rules laid down in Swedish law.
Please contact us before buying for further information about your item.
Claims
All claims, damaged or faulty goods must be reported to us as soon as possible after delivery, particularly if you suspect damage in transit (see 'Damage in transit' under delivery terms). Take pictures of the damage which you can send to us with your claim, including the order number and your contact details. The easiest way to do this is with the Return/claim form.
Variations in natural materials
All natural materials such as cast aluminium, wood etc. may display natural variations. For example, there may be differences between cast parts, and wood can vary according to the position of the grain. This will not necessarily justify a claim, because it is a natural part of the material.
Where a claim is approved, we will bear all costs associated with the claim, including all forwarding costs.
Right of withdrawal and return
At Essem Design we naturally want you to be happy with your product. When you shop with us, you have a 14-day cooling-off period in accordance with the Swedish Distance and Doorstep Sales Act. This means that consumers have the right to cancel their purchase within 14 days of receiving the goods. After you have notified us of your return on our Return/claim form, and we have approved it, you can use the attached return label and you then you have 14 days to send the goods back. Please note that you should never return a product without contacting us first.
Of course you can pick up and look at the product, but it must be sent back in its original condition and packaging.
If you return goods we take 30 EUR in return deductions and if the item is damaged another 10 EUR in value reduction.
Exceptions from the right of withdrawal
The right of withdrawal only applies to stock items where the ordered goods are placed in production after your order and manufactured specifically for you. You will see information about this on the products it concerns.
Refunds
Your return will be refunded and credited back minus return deductions and eventual value reduction no later than 30 days after we have received and approved your return. The refund will be made by the same payment method you chose with your order.
Dispute
Any complaints or comments on our products or services should be addressed to our customer service at [email protected], and we will do our best to help you. We comply with the Swedish Consumer Purchase Act.
Privacy policy
We care about your privacy. We will therefore tell you how we process the personal data that you provide to us and inform you of your rights. This is covered in our Privacy policy.
Cookies
When you visit Essem Design's webshop, 'cookies' will be saved on your computer. Among other things, these are used to keep track of the goods you have placed in your shopping cart. If you do not have cookies enabled in your browser, you will not be able to make a purchase. These cookies disappear from your computer when you close your browser. If you have disabled cookies, you can still continue to visit our website.
Force Majeure 
Essem Design AB is released from the consequences of failure to meet certain obligations in this agreement if the failure is due to mitigating circumstances as listed below and these circumstances impede, prevent or delay performance. Such mitigating circumstances include actions or omissions by public authorities, new or amended legislation, industrial disputes, blockades, strikes, fire or flooding, sabotage or major accidents. Force majeure also includes decisions by public authorities with a negative effect on markets and products, such as restrictions, warnings, sales embargos etc.
Thank you for shopping with Essem Design!